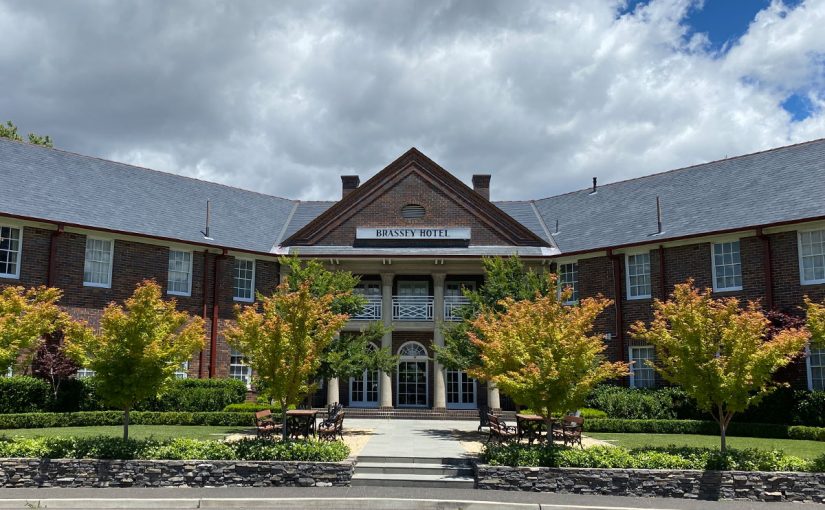 Brassey Hotel Canberra
Brassey Hotel: Heritage Hotel Roof Replacement
Take a look at this overview and image gallery from this project where we completed an extensive slate roof installation in Canberra.
The historic Brassey Hotel is located on the footsteps of the Parliamentary Triangle in the Canberra suburb of Barton. The Hotel opened in 1927 and has housed a string of politicians and government officials over the decades. It was designed by Sydney-based architectural firm Budden and Hood, the creative minds behind the well-known Elizabeth Street David Jones store in the Sydney CBD. Completed by the Federal Capital Commission, Brassey Hotel is significant for its design, which exhibits influences of American Colonial architecture. It is now Heritage Listed, due its significance that "with its garden setting and axial placement at the end of Belmore Gardens," it makes a "major contribution to the urban environment" of the area.
Set on two and a half acres of manicured gardens and lawns, this hotel oozes old world charm with all the comforts of a quality property.
The purpose-built hotel, which has housed a string of politicians and government officials over the decades, was acquired by the Doma Group in late June, 2015.
At that time, the hotel's 75 rooms were refurbished with new carpets, window furnishings, bed mattresses and bathroom fixtures.
When its roof suffered significant hail damage in 2019 and needed replacing, they looked to Slate Roofing Australia to install a new slate roof (Del Carmen) to restore and revive the building, whilst ensuring it is protected as best as possible from future hail events.
The results of this extensive slate roof installation in Canberra are nothing short of impressive.
Video: Brassey Hotel Slate Roof Replacement
Gallery: Del Carmen Slate Roof Installation in Canberra
Want to stay at Brassey Hotel? Visit the Brassey Hotel website and book accommodation.