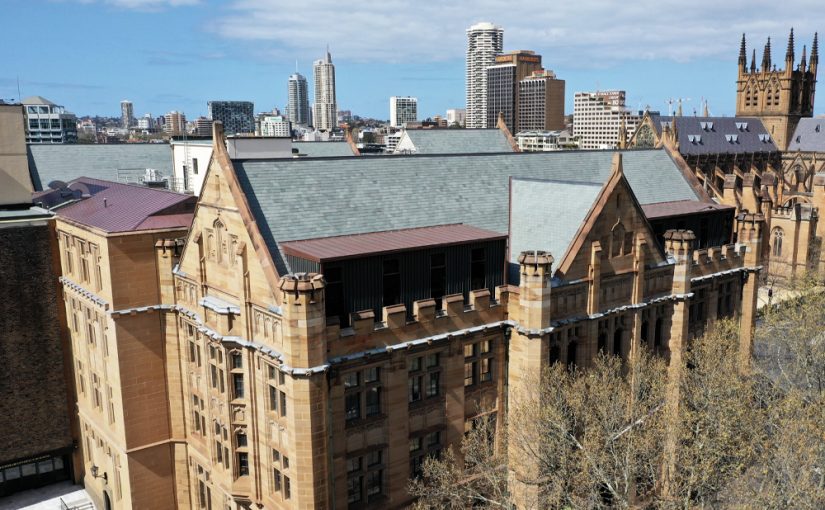 Registrar General's Building
Vermont Slate
Historic Sydney Landmark Restoration Using Vermont Slate and Copper Standing Seam
The Registrar General's building, also known as the Land Titles Office, is a heritage-listed building located opposite St Mary's Cathedral and Hyde Park on the fringe of Sydney's CBD.
Construction of the building started in 1909 and was completed in 1913. It was added to the New South Wales State Heritage Register in April 1999.
This historic civic building mirrors the architecture of St Mary's Cathedral opposite, with an elaborate Gothic Revival stone carving exterior and decoration using architect Walter Liberty Vernon's favoured 'yellow-block' sandstone, all set on a massive rusticated platform of Bowral trachyte.
Slate Roofing Australia was tasked with replacing its steeply pitched slate roof and extensive copper standing seam roofing.
New Vermont roofing slates were installed, as Vermont slate is renowned for its beautiful rich grain texture, with a grey green finish.
As is typical of all premium natural roofing slates installed by Slate Roofing Australia, Vermont slates ensure strength, durability, low water absorption and exceptional weathering resistance.
The Vermont slate roof work was complimented by extensive copper standing seam roofing throughout external-facing and internal-facing areas, along with intricate copper guttering to withstand and manage the extreme weather the building will face over the coming decades.
Watch the video below to see the completed project, with this extensive roof restored to its original magnificence.
Video: Vermont Slate and Copper Standing Seam Room Restoration
Project image gallery