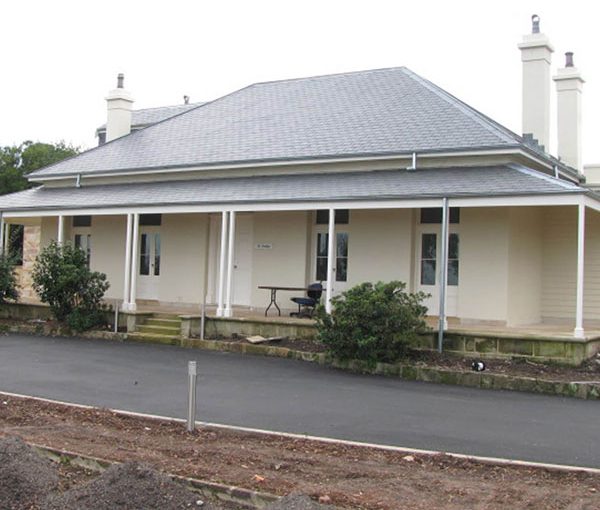 The Hermitage, home of prominent Australian, John Blaxland
Glendyne
The Hermitage, located in the Sydney suburb of Denistone, was built in 1842 for John Blaxland, eldest son of prominent Australian explorer Gregory Blaxland. The Australian colonial style home is one of only five surviving buildings built before the 1850s in the Ryde area – the second oldest farming settlement in Sydney The Hermitage is historically significant and has all the characteristic hallmarks of Georgian colonial architecture, such as high ceilings, decorative cornices and marble fireplaces.
John Blaxland
Born in Kent, England in 1799, John Blaxland was the eldest son of Gregory Blaxland, the celebrated explorer who led expeditions into the interior of NSW. In 1805, the family immigrated to Australia where Gregory Blaxland bought 182 hectares of land near Ryde. In 1829 he transferred the estate to his eldest daughter, who later sold a portion of this land to her brother John. In 1842, John commissioned colonial architect John Bibb* to build a seven-bedroom, five-bathroom brick-and-stone house. The hilltop home, which has views to the Blue Mountains, was named The Hermitage because John was known as "the hermit of the family". John and his wife Ellen had six sons and three daughters born at The Hermitage. In 1905, 21 years after John died and two after Ellen, the land was subdivided and the house sold.
Restoring the Australian colonial-style home
Unfortunately, by the 1950s, the house had fallen into disrepair. It took until 2009, more than 50 years later, for the significance of this property to be realised and refurbishing begin. Owing to our experience and knowledge of working on significant heritage buildings, Slate Roofing Australia was hand selected to restore the roof of The Hermitage. Using traditional slate roofing methods, we restored the main roof with Glendyne slates tiles, and reused a small portion of existing slates to repair the side building. After five years of restoration work, The Hermitage is now listed as a "place of historical significance" by the NSW Heritage Council. *John Bibb: other significant buildings designed by the Sydney colonial architect include Elizabeth Bay House; The Mona in Darling Point; Pitt Street Uniting Church; Wesleyan Chapel in Bourke Street; and the Newtown Town Hall.